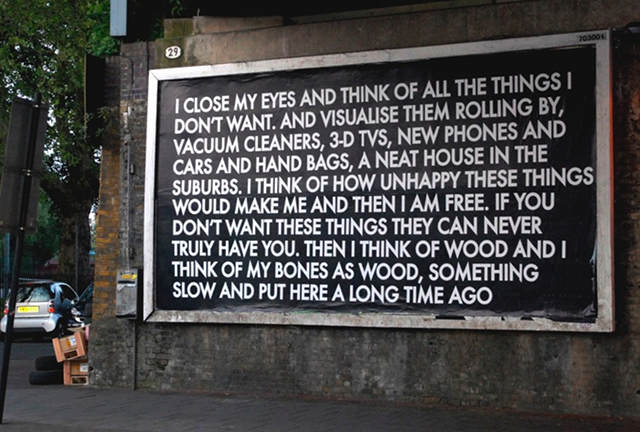 Contextualized in a post-Situationist tradition, British artist Robert Montgomery uses the medium of language as the central form of expression. His work is often poetic and melancholic while confronting his audience in publicness, which is central to his work.
As a public inventory of the contemporary mindset, his work seems like a glance into the way it feels to live at this very moment in time. The main reference points of this new exhibition, that will take place in summer 2012, is the the city of Berlin.
Montgomery`s work will be shown on the the disused Tempelhof Airport, a site of an early concentration camp in the 30s, a military airport during World War II, the iconic Berlin Airlift during the 50s and finally the presentation of the area to the general public in 2008. You`ll also find his artistic projects at various other locations across town.
Robert Montgomery
ECHOES OF VOICES IN THE HIGH TOWERS
Installations in public space
July – October 2012
NRR – Neue Berliner Räume
Exhibition: Tempelhofer Freiheit
(park of the former Tempelhof Airport)
Columbiadamm entrance | main entrance to the park
Photo: Robert Montgomery