Two years ago, three editors started to work out the fabulous idea of The Plant Journal. Besides providing botanical contents in a simple, personal and cozy way, The Plant Journal offers a new view on greenery on a bi-annual basis. The first issue was launched in June 2011 and its initiators Isabel Merino, Carol Montpart and Cristina Merino are still on the go – issue #3 will be in stores in September 2012. Christina Merino, editor-in-chief, took some time to let us know, what makes up the passion behind.

What is it about your relationship to plants, that you came up with the idea to publish The Plant Journal?
It was when we moved to our own homes. We were buying plants to decorate but we realized that we didn't know so much about caring them so we started looking at some tips and advice. After that we got more into them and noticed that there wasn't any magazine that talked about plants the way we wanted, so we started working on the project and now we are going to launch third issue soon.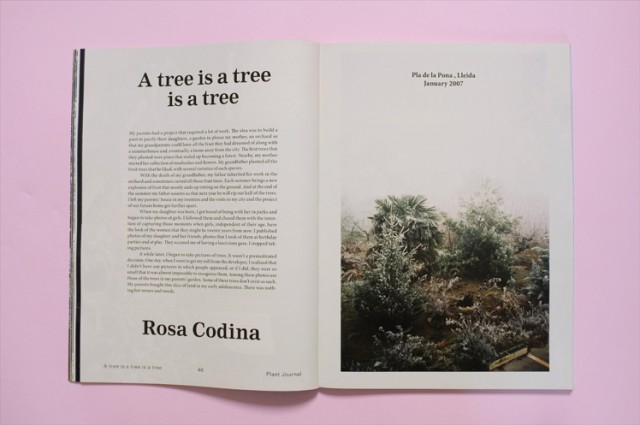 Who are your readers and what do they get out of The Plant Journal?
Obviously people who love plants, but not only them. We are very sensitive about nature, but since we have a very wide approach to greenery, also people who are interested in all kind of creativity fields: photography, design, illustration, etc.
Carolyn Christov-Bakargiev, the curator of Documenta 13, claims, there`s no difference between art and nature. After more than one year intensive research for The Plant Magazine – what do you think about this?
You can see nature as art on its best. But we guess it all depends on everyone's look.


You`re based in Barcelona. Concerning the fact, that plants play an increasing role in urban life – can you recognize this new phenomena, when looking at Barcelona`s cityscape, too?
Maybe because of the weather, very hot in summer and dry in winter, you can't say Barcelona is a plant-loving city in the same way as London or Tokyo can be. We don't even have a big green park… That being said, you can also see now that more and more people are starting their vegetable gardens, both in their private balconies or in public spaces.
What are your favorite sources of inspiration when it comes to plants?
We are always looking for inspiration and doing research. Not only online research, but also looking for books and magazines, chatting with friends and contributors. You have to always be very eyes-opened.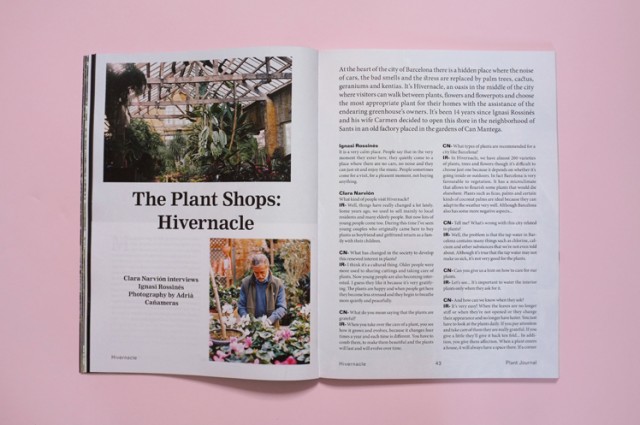 One thing you`ve learned about plants, that is still amazing you.

I really like how the can fast they can grow, sometimes from one day to another without you can even realize. It's also amazing how they grow always directing themselves to the sun light and how they "tell" you that they need water by bowing down their leaves.

Do you have a vision of an ideal place for plants or a garden in mind?

I've always dreamt to have an indoors windowsill for my potted plants collection (the windowsill is something very unusual in Barcelona). If I think on having a garden, I will love to plant fruit trees, vegetables, herbs, some potted plants and also some wild flowers; everything organized in very organic way.

And finally, what`s your favourite plant?

Ferns!! But I guess that's it is something that is always changing.

Website: http://www.theplantjournal.info/
Buy online: hello [at] theplantjournal.info

All photos: © The Plant Journal

Fatal error: Call to undefined method WP_User::exists() in /home/.sites/107/site958/web/wp-content/themes/duet/functions.php on line 875