Almost everybody in Vienna should know these posters -  you often stumble upon them while waiting for the next subway to arrive: 100 Handlungsanweisungen / 100 Instruction On How To Act is a project for the townsfolk, for art recipients, for flâneurs, slowpokes and stressed ones.
Once started as an art project in 2002, aiming to remap the area around Karlsplatz in Vienna, which is one of the most important strategic and frequent transportation hubs in the city, some of the project`s relicts are still visible in some stations throughout the Viennese underground today.

On signal yellow boards various Handlungsanweisungen / Instructions, verbalized by one hundred contemporary artists like Jürgen Teller, Louise Bourgeois, Erwin Wurm, Matthias Hermann, Candice Breitz, and others, let people stop by for a minute and rethink their daily routines: urban dwellers get advices, for example, to smile at a stranger.
Great idea – for that are the simple things in life, what make living together in a city much more effortless and joyful, aren`t they?!
For those of you who prefer unlimited browsing of the whole collection of Handlungsanweisungen at home – the catalogue is still available and can be ordered here  christina.zowack [at] kunsthallewien.at.
Catalogue: handlungsanweisungen
Kunsthalle Wien ,
Gerald Matt (Hrsg.);
Göttingen: Steidl, € 14,
ISBN 3865210759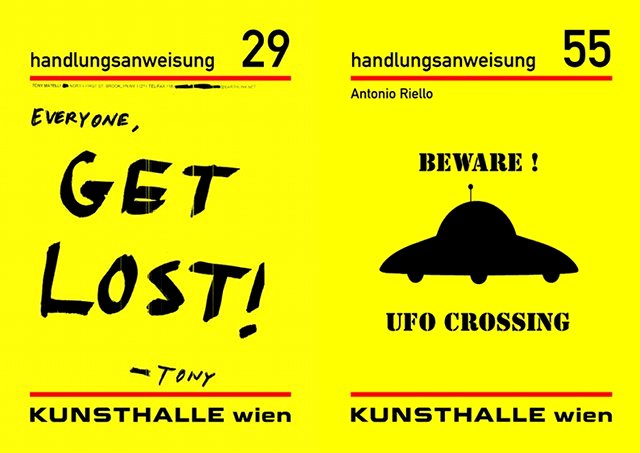 Credits: "handlungsanweisungen", permanente Installation, KUNSTHALLE wien © the artist
Photo, top: Handlungsanweisungen, seen at Volkstheater, subway station in Vienna, Photo: Carmen Rüter

Fatal error: Call to undefined method WP_User::exists() in /home/.sites/107/site958/web/wp-content/themes/duet/functions.php on line 875